The Minnesota Timberwolves have officially lost their three-time All-Star Kevin Love, but this trade may be a blessing in disguise
Last season, Love had a career year, scoring 26.1 points per game and ranking third in Player Efficiency Rating, according to Hollinger Stats, courtesy of ESPN.
Love might be a top-five scorer in the NBA, but he showed no defensive intensity and was unable to carry the Timberwolves to the playoffs during his six-year tenure.
Since Love was drafted in 2008, the Wolves' win percentage is well below 50 percent. Their best season was last year with only 40 wins.
To be fair, the Timberwolves' struggles were not entirely Love's fault. Not only was his supporting cast very mediocre, but his team was also in a very tough conference. Last season, if the Wolves were in the Eastern Conference, they would have clinched the eighth seed.
Recently, Timberwolves' owner Glen Taylor had a few strong comments toward Love during an interview on 1500 ESPN Twin Cities radio.
"I think where maybe he got away with some stuff not playing defense on our team, I'm not sure that's how it's going to work in Cleveland," Taylor said.
In March, Tyson Chandler of the Dallas Mavericks also publicly criticized Love's defense:
Tyson Chandler's harsh (but true) analysis of Kevin Love: 'He can't play D' http://t.co/ezEeUKacBx

— Sports Illustrated (@SInow) March 6, 2014
Along with poor defense, Love has been known for demonstrating poor sportsmanship. Many fans might remember when he was suspended two games in 2012 for stomping on Luis Scola's head.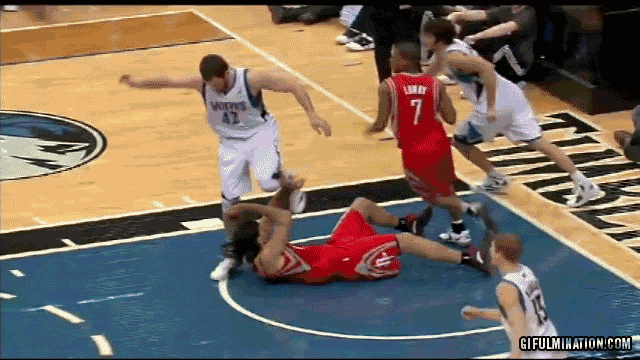 Even his response to Chandler's criticism was cringe-worthy:
Kevin Love says "F*** him" in response to Tyson Chandler's criticism of his defense: http://t.co/QfYV9pg2IR

— Dime Magazine (@DimeMag) March 7, 2014
However, the Chandler/Love exchange was later revealed to be a series of friendly jabs between the two players.
When Love was on this team, the Timberwolves were riding the waves of mediocrity, but now they have a new identity.
In return for Love, the Timberwolves received Andrew Wiggins, Anthony Bennett, Thaddeus Young and a promising future.
Even without logging a single minute in an NBA game, Wiggins has become a household name. His offense may need some work, but his explosiveness and defensive intensity will allow him to be an immediate impact.
Bennett struggled in his rookie year due to injuries, but he bounced back with an impressive summer, averaging 13.3 points and 7.8 rebounds per game in the Las Vegas Summer League, per NBA.com. Most importantly, Bennett reportedly lost weight during the offseason:
Anthony Bennett has been working out in Cleveland the last couple months, hired personal chef. Says he's lost 15-20 lbs since April

— Josh Lewenberg (@JLew1050) July 12, 2014
The Timberwolves also added experience to their roster by bringing in Young, a seven-year veteran. He's not an All-Star, but Young is a solid player coming off of a career year. The 26-year-old power forward averaged a personal-best 17.9 points per game while shooting slightly over 30 percent from three last season with the Philadelphia 76ers.
The Timberwolves also have young talent in Zach LaVine, Shabazz Muhammad and Gorgui Dieng.
Muhammad and Dieng saw limited time last season, but per 36 minutes, both players were very productive.
| | | |
| --- | --- | --- |
| Player | PPG | TRB |
| Muhammad | 17.8 | 6.6 |
| Dieng | 12.6 | 13.2 |
Many fans are especially excited about LaVine due to his elite athleticism.
He showcased his incredible leaping ability when he challenged Wiggins to a dunk contest via Twitter:
just accepted @GRIII challenge at the @PaniniAmerica shoot and now challenge @22wiggins to beat this! https://t.co/KBw6hO0Y11 #hoopsrookie

— Zach LaVine (@ZachLaVine) August 3, 2014
LaVine was drafted as a point guard, but due to his length and poor passing ability, he's probably better suited as a 2-guard. Last season at UCLA, he only averaged 1.8 assists per game.
Not to mention, the Timberwolves already have several proven players, such as Nikola Pekovic, Corey Brewer and Ricky Rubio (all of whom are under 29 years old).
This team will probably adopt a fast-paced offense that will allow their young athletic players to flourish. Last season the Washington Wizards and the Toronto Raptors used their youth to their advantage by running an uptempo offense, and both teams made it to the playoffs.
Of course, a fast-paced offense may not suit Pekovic or the aging Martin very well. With potential young replacements, such as Dieng and Muhammad on the roster, the Wolves may want to trade away some of their older assets.
Steve Kyler from Basketball Insiders weighed in on the possibility of a Pekovic trade, saying, "I wouldn't rule it out, because Gorgui Dieng looked really good this summer, but given what Pek is owed, there isn't a scenario that seems likely."
The future of the Wolves may be exciting, but Love's departure does hurt them in the present. The loss of their biggest offensive contributor will inevitably cost them a few wins in the upcoming season.
Remember, Wiggins and LaVine are only 19 years old and still very raw. The development of the Wolves' prospects may be fun to watch, but it won't translate into victories for at least a few years.
If all of their young talent can reach their full potential, the Timberwolves could be very dangerous two to three years down the road.
All stats are courtesy of Basketball-Reference.com unless otherwise noted
Follow me on Twitter: @SupermanJZ
Read more NBA news on BleacherReport.com
View full post on Bleacher Report – NBA
The Minnesota Timberwolves traded away their franchise player in Kevin Love to the Cleveland Cavaliers, but that hasn't kept fans from getting excited about the upcoming season.
In fact, fans are apparently as excited as ever. After receiving Andrew Wiggins, Anthony Bennett and Thaddeus Young, the Timberwolves have sold over 300 full-season ticket packages in the last week, breaking the previous record when Ricky Rubio joined the team in 2011.
Timberwolves senior vice president and chief revenue officer Ryan Tanke is quite excited about the current state of the team, according to The Associated Press (via USA Today), saying:
The organization, from president-level on down has just been re-energized. Part of it is hope, and you have this great new hope.

But then there's also the reality, which is it was a long, tough summer. For it to come to the head that it came to and have it be the outcome that we had, I think it creates this perfect storm environment for us.
With a young group of players in Bennett, Wiggins, Young and first-round pick Zach LaVine, the Timberwolves and their fans seem excited about the future of the franchise, even if it's without Love.
Read more NBA news on BleacherReport.com
View full post on Bleacher Report – NBA
The Minnesota Timberwolves haven't made the playoffs in 10 years and just traded the face of their franchise so he can go chase a championship with LeBron James in Cleveland. Kevin Love is gone now, and yet somehow the Timberwolves have parlayed that into a record-setting week at the box office. After completing the long-rumored trade that sent Love to the Cavaliers and brought Andrew Wiggins, Anthony Bennett and Thaddeus Young to Minnesota, the Timberwolves have sold more than 300 full season-ticket packages in the last week. "The organization, from president-level on down has just been re-energized," Timberwolves senior vice president and chief revenue officer Ryan Tanke said.
View full post on Yahoo Sports – NBA News
Earlier this week, ESPN reported that Minnesota Timberwolves owner Glen Taylor made some statements about the Kevin Love trade, commenting on Love's defense, claiming that Love will get the blame if the Cleveland Cavaliers struggle and bringing up Love's injury history.
Kevin Love
I understand the frustration that Taylor must feel now that Love has officially left the Minnesota Timberwolves for the Cleveland Cavaliers, a team that with LeBron James, Kyrie Irving and now Love, is in a strong position to make it to the NBA Finals, while the Timberwolves are rebuilding yet again. However, the Timberwolves got a great haul for Love, by getting Andrew Wiggins, Anthony Bennett and Thaddeus Young.
These are three players with a lot of potential that the Timberwolves would not have gotten if Love had left through free agency, and getting an established player in Young, and two former first overall players in Bennett and Wiggins is a lot better haul than most NBA teams have gotten for a superstar player who has de
View full post on Yardbarker: NBA
Timberwolves enjoy record ticket-selling week in aftermath of Kevin Love trade
View full post on USATODAY – NBA Top Stories
With Kevin Love officially traded to the Cleveland Cavaliers (according to Adrian Wojnarowski of Yahoo Sports), the Minnesota Timberwolves will have a very different starting five than in years past.
Many new faces will be donning the blue and green this upcoming fall. Most of these new additions are unproven players with very high ceilings, such as Andrew Wiggins, Zach LaVine and Anthony Bennett.
However, the Timberwolves also have solid veterans such as Kevin Martin, Nikola Pekovic and the recently added Thaddeus Young.
Coach Flip Saunders will have to choose between playing veterans to win now or prepare for the future by playing the youngsters.
View full post on Bleacher Report – NBA
It was a good move, from acquiring an elite prospect like Andrew Wiggins to securing Anthony Bennett as a buy-low throw-in.
The Minnesota Timberwolves weren't winning with Kevin Love, anyway.
Of course, the typical skeptic will argue against dealing established talent for guys whose appeal is strictly tied to long-term potential, given the uncertainty that comes with it and the time it takes to reach.
Then again, if Wiggins does hit his stride and Bennett eventually figures it out, the Wolves will likely look back on the trade as a huge success, considering the ugly position the organization was put in.
And based on the current setting in Minnesota, you have to really like their chances.
Offensive freedom, no expectations, built-in camaraderie—Wiggins and Bennett, whose relationship dates back to their days playing AAU ball for the Canadian-driven CIA Bounce, are looking at a no-pressure environment with unlimited opportunity.
The Timberwolves will get to develop these guys under fairly ideal conditions—as long as management and fans can sit tight while each prospect works out the kinks in their respective games.
Arguably the biggest knock on Wiggins as a college freshman was his tendency to drift or disappear. Playing amongst fellow star prospects and veterans at Kansas, he'd often go long stretches without taking a shot. The only real question that scouts continuously asked was whether or not they were looking at an eventual No. 1 scorer or a complementary weapon.
Wiggins won't find a better stage to develop his go-to scoring repertoire on than the one he's got lined up in Minnesota. What better way to ignite a prospect's confidence than to consistently give him the rock under nothing-to-lose circumstances?
As a rookie, he'll be getting the green light he'll hope to have as a top option for a playoff team three to four years down the road. Consider this upcoming season valuable on-the-job training.
The Timberwolves offer Wiggins a chance to fine-tune his offensive arsenal (step-backs, pull-ups, fall-aways, drives, floaters) on an every-game basis alongside guys like Bennett, Zach LaVine and Shabazz Muhammad—other rookies and sophomores also at early stages in their development.
The fact that Wiggins will be going to a team where he'll see familiar faces, each looking at similar hurdles, should help raise his comfort level as a 19-year-old newcomer breaking into the league.
"It's been a crazy summer, really up and down. Kind of lost, not really knowing where I'm going," Wiggins told the Associated Press, via ESPN. "But I wanted to play for a team that wanted me. I felt the love as soon as I got off the plane at the airport, so it's all good now. I'm excited for this season."
The move was good for Bennett as well, as it gives him a chance to start fresh and shake off the bricks he threw up and the boos that followed.
Last season, we'd see Bennett alternate 20-minute games with four minutes cameos and the occasional DNP. And when he actually did get time, he was never really able to get his footing or gain any stability—like a fatigued water polo player struggling to make plays in a deep pool.
But the water is shallow in Minnesota, where Bennett will have a more defined role and a better shot to nail it.
Like it should be for Wiggins, the young roster and unestablished chemistry should be good for Bennett, who won't have to try too hard to fit in or think about living up to the hype.
"I've been hearing all the talks for a while now," said Bennett. "So me being here in Minnesota, it's a great (state). It's a great fan base, great team coming up where everybody's young. We have some vets, too. I'm just here to learn from everybody."
With Love essentially forcing his way out, the Timberwolves turned a bad hand into one that could pay off big time later on. Tim Bontemps of the New York Post actually rated this the best superstar trade (in Minnesota's favor) of this era.
You're never going to get direct equal value in return for a superstar on the trade market. But in Wiggins, the Wolves managed to reel in a rare talent with a ceiling that technically exceeds the height of the hot shot they just dealt. If it clicks for Wiggins, Minnesota could be looking at one of the game's top two-way wings as a dynamite scorer and lockdown defender.
In Bennett, Minnesota gets a project. And he'll need work. But at 21 years old, he's not broken. There's still some untapped offensive game bottled up inside him somewhere.
Hopefully, pairing the two together on a team with other guys their age will help create a more favorable environment for each to really flourish.
I'm viewing this trade and move as a positive for both Wiggins and Bennett individually, and in turn, a surprise win for the Timberwolves as a franchise.
Read more NBA news on BleacherReport.com
View full post on Bleacher Report – NBA
The Kevin Love era is over for the Minnesota Timberwolves, but the new regime can't be done making moves quite yet.
Flipping the disgruntled power forward for a haul that centered around Andrew Wiggins was only the first step in revamping what's become a rather youthful roster. It can't be the last move, as the Wolves are now committing to a rebuilding process with plenty of promise.
As Bleacher Report's Zach Buckley noted when discussing the topic, Minnesota's head coach and acting president Flip Saunders dealt with his own conflicting interests perfectly. The presidential personality avoided succumbing to the coaching side's win-now idealisms by sacrificing top-notch talent for potential, and now the future looks awfully bright in Minnesota.
Much brighter than what, only a few weeks ago, was a mediocre present.
That said, the future can get brighter. The current mixture of new arrivals and incumbent players isn't going to compete for a playoff berth in the tough Western Conference during the 2014-15 season, and the veterans are only getting older.
The Love trade should set off a chain reaction in Minnesota. It's the first domino in a line of many that should fall.
What's next to tip over?
Who are the Keepers?
All of a sudden, the Timberwolves are brimming with young talent. Rather than boasting a healthy mix of veterans and up-and-coming players who fall short of the playoffs each and every year, Minnesota has moved into more of a rebuilding mode, even if there's enough quality talent to remain at least moderately competitive.
Wiggins is obviously the premier keeper on the roster, as he was the centerpiece in the haul Saunders received for Love's services.
The Kansas product was the No. 1 pick in a potentially star-studded 2014 draft class, and his ceiling is immeasurable. Right off the bat, he should put in work as a wing-stopping defender, a young man who can settle into his defensive stance and make things happen on the less-glamorous end of the court. However, his vaunted athleticism and undeniable upside on offense give him large quantities of untapped potential.
However, Wiggins obviously isn't the only keeper on the roster.
Ricky Rubio hasn't panned out as many expected, but he's still a player worth holding onto and building around. The Minnesota floor general needs to develop a consistent jumper so that defenses can't sag off him and dare him to score, but he's a ball-hawking defender and one of the best distributors in the Association.
To clarify on that first point, Rubio isn't yet a standout defender, but rather a player who gambles excessively and does tend to record plenty of steals. As Bleacher Report's Dan Favale writes, "There's value in Rubio's defensive performance as well. He can take too many chances and is rarely able to catch up with those who beat him off the dribble, but he has quick hands that force steals in volume."
If Minnesota can surround him with quality stoppers, especially some capable of protecting the rim, then his failed gambles won't be as detrimental.
Joining Rubio and Wiggins in the realm of keepers are Shabazz Muhammad (who wasn't given too many chances to thrive under the tutelage of Rick Adelman), Zach LaVine (who may have nearly as much upside as Wiggins, even if he's quite raw), Gorgui Dieng (who broke out late last season), Thaddeus Young (a recent trade acquisition who will serve as a fantastic complementary piece), Glenn Robinson III (another rookie with upside) and Anthony Bennett (last year's No. 1 overall pick).
Everyone else is expendable.
The Possible Deals
On the current roster, there are eight names who weren't mentioned in the previous section—J.J. Barea, Corey Brewer, Chase Budinger, Robbie Hummel, Kevin Martin, Nikola Pekovic, Ronny Turiaf and Mo Williams.
Of those, we can immediately scratch off a few players.
Williams just signed with the team, and he's a valuable sixth man who will eventually be just another solid guard off the bench when the young players develop into quality contributors. Turiaf and Hummel don't have much trade value, and Budinger's injury history makes him too risky for any team to pay a reasonable asking price.
Now we're down to just four players.
Barea is coming off a season in which he averaged 8.4 points, 1.9 rebounds and 3.8 assists per game, but he also shot just 38.7 percent from the field and 31.6 percent from beyond the arc. According to Basketball-Reference.com, his player efficiency rating was 11.6, the worst mark since his rookie season with the Dallas Mavericks.
Plus, his contract makes things tricky. ShamSports.com shows that he's operating on a $4,519,500 expiring contract, which gives him more trade value but also less worth to Minnesota, as he isn't exactly a part of the future plans.
If there are no takers willing to offer a second-round pick or an intriguing prospect, he could very well be bought out, leaving the Wolves taking a cap hit but opening up more minutes for the incumbent young guns.
Brewer should be slightly easier to deal, as he's a player with two skills that could make a contending team quite happy, enough so that it should be willing to send a draft pick back in return. And considering Minnesota almost has to open up more playing time for the wings and forwards—Wiggins, Muhammad, Bennett, Young and Robinson—that's a return that should see him depart.
Though this won't be so readily apparent without Love throwing him outlet passes that would make Wes Unseld swoon, Brewer is a devastating transition threat with a nose for the hoop. He's also a solid defender, one who made Minnesota slightly better on that end when he was on the court, per Basketball-Reference.com.
That said, Brewer and Barea are minor trade pieces. The big moves will revolve around Martin and Pekovic.
While the former's contract—he's making roughly $7 million per season over the next two years and has a player option for $7.4 million in 2016-17—significantly decreases his value, he's still a talented shooting guard playing in a league without too many standouts at the position. Martin's perimeter scoring and ability to space out the court are quite valuable and he should easily be able to find a home elsewhere, so long as the Wolves are willing to take pennies on the dollar in order to shed his salary.
As for Pekovic, he's coming off an injury-plagued season in which he averaged 17.5 points and 8.7 rebounds while shooting 54.1 percent from the field. A tough, physical bruiser, he undoubtedly has value at the center position as a consistently efficient big man who can provide value in plenty of areas.
Even during his introductory press conference, Young had to compliment Pekovic's strength:
If he were a great rim-protector or a player capable of carrying the offensive load, he'd be all the more valuable, but Pekovic is what he is at this point. And that's a player capable of bringing back a solid haul once he's placed on the trade block.
Now it's possible that all of these players end up leaving Minnesota before the 2014-15 trade deadline is upon us. It's not inconceivable that Martin's contract could be sent elsewhere early in the proceedings, Barea could be bought out and Brewer and Pekovic could be packaged together for a return filled with youth and upside.
But if only one move is to be made, which is most likely?
The One Move
It's either trading Martin or dealing Pekovic.
While moving Brewer and Barea is certainly possible, neither player would shift the needle as much as the two aforementioned standouts, as both can be crucial pieces on championship-contending teams.
For two reasons, the answer has to revolve around the 6'11″ center from Montenegro.
First, he's the better, more valuable player. While Martin plays at a position with a dearth of elite talent, it's not as though center is bubbling over with traditional bigs who can single-handedly change the outcome of a game. There are plenty of promising athletic phenoms and undersized stretchy players at the 5, but the bruisers who can produce like Pekovic are few and far between.
According to Basketball-Reference.com, there were only seven players in the NBA who averaged at least 17 points and eight rebounds last season while shooting above 50 percent from the field: Anthony Davis, Blake Griffin, Al Horford, Dwight Howard, Al Jefferson, David Lee and Pekovic.
That's a pretty stellar group of big men, one filled with All-Stars, fringe All-Stars, should-have-been All-Stars and would-have-been-if-they'd-stayed-healthy All-Stars.
And Pekovic.
Does that mean he should be in one of those categories? Probably not, as his defensive shortcomings and injuries do hold him back rather significantly. But there's still no doubt he's a valuable player, one worth the $12 million he makes during the average year.
As for the second reason, it's important to look at the strength of the players behind Martin and Pekovic.
Both are blocking young prospects from gaining valuable time on the court, but Pekovic is more necessary to move. Players like Wiggins and LaVine might naturally play shooting guard, but at least they can capably line up at other positions and play alongside Martin.
Dieng, however, should not be playing anything other than center.
As shown by both Basketball-Reference.com and 82games.com—which don't always agree on positions, mind you—Dieng played all 818 minutes of his rookie season at the 5. And remember how much he thrived when injuries finally gave him a chance to spend extended periods of time out on the court?
During the last 18 games of the season—15 of which he started—Dieng averaged 12.0 points, 11.3 rebounds, 1.5 assists, 1.1 steals and 1.5 blocks per game while shooting 52.8 percent from the field. He wasn't the scorer Pekovic was when healthy, but his rim-protection skills, versatility and slightly better passing may actually have made him the more valuable player.
He's not a power forward, and his development will only be blocked by the highly paid big man in front of him on the depth chart.
So long as the Wolves can get back a young piece or two by dealing Pekovic, he's the man to move. He opens up more for the incumbents, he'd free up more cap room than Martin would if Minnesota can bring back some expiring contracts and the talent level of the return would likely be greater.
Even in the post-Love era, Saunders has plenty of options at his disposal. Dealing the Montenegrin big man is just the route he should pursue most strongly.
Read more NBA news on BleacherReport.com
View full post on Bleacher Report – NBA
Let's face it: Losing an All-Star player has to be one of the worst things an NBA owner could go through—especially if the player in question has made it known on multiple occasions he straight up doesn't want to be there, per ESPN.com.
On Tuesday, Minnesota Timberwolves owner Glen Taylor took to ESPN Radio 1500 to sound off on the trade that sent Kevin Love to the Cleveland Cavaliers (via Brian Windhorst of ESPN.com):
"I think where maybe [Love] got away with some stuff not playing defense on our team, I'm not sure that's how it's going to work in Cleveland" Taylor said. "I would guess they're going to ask him to play more defense and he's foul prone."
Taylor isn't exactly spouting off gibberish. Love is, by just about any measure, a below-average defender. And while the presence of LeBron James and center Anderson Varejao are sure to make life a bit easier, never has Love experienced the kind of on-court accountability he's about to face.
The ruling: not a cheap shot.
Anything else, Mr. Taylor?
I question Kevin if this is going to be the best deal for him because I think he's going to be the third player on the team. I don't think he's going to get a lot of credit if they do really well. I think he'll get blame if they don't do well. He's around a couple guys that are awful good.
Yeah, that might leave a mark. It's one thing to call out a specific aspect of someone's game; it's another thing entirely to simply assume one of the top 10 players in the league is destined to be the third wheel.
Taylor's remarks might not carry quite the vindictive weight of Dan Gilbert's infamous open letter to Cleveland fans four years ago, but that doesn't mean this doesn't come off as sour grapes.
We're talking, after all, about a trade that just netted Minnesota one of the NBA's most promising prospects (Andrew Wiggins), a solid five-tool cog (Thaddeus Young) and a No. 1 overall pick in Anthony Bennett who showed during an impressive stint at the Las Vegas Summer League that he's ready to leave last year's putrid rookie season behind him.
True, watching Love passive-aggressively force his way out of town probably wasn't what Wolves fans had in mind for the team's offseason plans. But as MinnPost's Britt Robson poetically underscored, there's plenty of reason for optimism to spring eternal in the Twin Cities:
And that's the hard part. Amid the hubbub over the heroic rescue of Love debacle, the looming prospect of spectacular dunks, daredevil steals, scintillating drives to the hoop and gymnastic, suffocating defensive pressure, there is a crazy-quilt of a roster that will be extremely difficult to stitch.

But that's the subject of another column—the buzzkill edition of this unfolding saga. It can wait until later. Until then, savor the hope, the good fortune, the competence, the feisty egotism. Let the Wolves make you feel good for a change.
So long as Taylor doesn't turn a few off-the-cuff quips into a month-long fire-and-brimstone barnstorming tour, these preliminary remarks will likely be forgotten in no time—especially if Andrew Wiggins decides to open training camp by dunking from half-court or something.
Read more NBA news on BleacherReport.com
View full post on Bleacher Report – NBA
After a disastrous rookie season, there's little that can be more beneficial than some re-calibrated expectations and a fresh start somewhere new.
By being traded to the Minnesota Timberwolves as a part of the Kevin Love deal, Anthony Bennett will get just that.
The Cleveland Cavaliers shocked the world when they took Bennett with the first overall pick in the 2013 draft. Then he put forth one of the very worst rookie campaigns we've seen out of a top overall pick in quite some time.
Sean Highkin of Sports on Earth explained why things went wrong:
Bennett's rookie year was a nightmare on every level. Coming off shoulder surgery that ended his UNLV career, he showed up out of shape, averaged just 12 minutes per game while missing 30 games, and was generally awful when he did play for the Cavs. He averaged just 4.2 points and three rebounds per game and became the first No. 1 pick to not make either the first or second All-Rookie team due to non-injury reasons since Kwame Brown in 2002. His college nickname, "Big Daddy Canada," became less about his impact and more about his weight. Even in a draft as weak as 2013, the pressure of being a top pick weighed on him and destroyed his confidence. At one point, he temporarily deleted his Twitter account because the hateful messages became too overwhelming.

"I just put a lot of pressure on myself," Bennett said on Sunday. "Things weren't going right for me. Everything just collapsed and built up. I got down on myself."
It's not hard to see the path that led Bennett to failure in his rookie season. His injury led to poor conditioning, his conditioning led to missed jump shots and his missed jump shots led to a crippling lack of confidence.
Without any success to remind yourself of at the pro level, things can spiral—both physically and mentally—pretty quickly for a young player.
Bennett was prematurely labeled a bust for his tough rookie season, but he's already setting out to turn things around and get his career on track.
At the Las Vegas Summer League, playing in front of his old UNLV fans, Bennett looked notably trimmer and more assertive with the ball. Although he wasn't dominant, he looked like a top pick should.
"I'm really happy with the way Anthony has come to our camp," Cleveland Cavaliers coach David Blatt told Zach Lowe of Grantland in a Q&A earlier this offseason. "He's worked extremely hard, has improved his body, has improved his approach. He's maturing. He's on the right track. We're gonna see what we can do with him."
While it's hard to blame the Cavs for shipping out Bennett, this year's top pick (Andrew Wiggins) and a future first-round choice to land an established star like Kevin Love, it obviously wasn't ideal to move Bennett with his trade value as low as it will ever be.
In Minnesota, however, the focus will change.
Instead of having to be a piece capable of sharing floor time with LeBron James, Bennett won't face much pressure in Minnesota at all. The majority of it will instead be with Wiggins, as Thaddeus Young will almost certainly replace Love as the starting power forward.
Here's Josh Haar of Bleacher Report:
Bennett can now start anew with the Wolves. He will likely play bench minutes throughout 2014-15, but the forward will carve himself a larger role moving forward—if he reaches his full potential, that is. Let's not forget his lone season at UNLV, in which he generated 23.7 points, 12.0 rebounds and 53.3 percent shooting per 40 minutes (via Sports-Reference.com).

If Bennett can revert to the versatile scoring machine he was in college, he will certainly establish himself as a more significant threat. Losing that extra weight is a step in the right direction. On a developing Minnesota squad, he holds the opportunity to revitalize his career and aid the Wolves' future advancement.
In a bench role, Bennett can take his time and develop out of the spotlight a bit.
Moreover, while Kyrie Irving is undoubtedly a very talented point guard, his focus was often to score instead of distribute. In Ricky Rubio, Bennett can rest easy knowing that if he's open, he'll get the ball.
The reduced minutes of a bench role should help Bennett's overall effectiveness. Although you hope conditioning is no longer an issue, playing in short spurts should allow Bennett to be more active crashing the offensive glass, where his size and athleticism can really cause problems for defenses.
It's easy to fall in love with the potential of what Bennett can become, even if he doesn't project as a strong defender.
Bennett is comfortable as a pick-and-pop big man around the top of the arc, but he can also face up and take slower power forwards off the bounce. Stick a small guy on him at the 4, and he can post up and move his weight around.
There's a lot to like here, even if we saw only brief glimpses of it in his rookie season. By having some of the pressure removed in Minnesota, though, Bennett almost gets a mulligan on his rookie year and gets to try again in a completely new situation.
Zach Harper of CBSSports.com has more on Bennett:
He may never live up to his No. 1 selection, even in a weak draft. But there is a difference between ending up like every other player on that list of historically failing rookies and being the first player on that list to show it was an outlier to their career. There is a difference between being a bust and being able to consistently fill a role in the rotation for your team.

Bennett surprised us on draft night by being selected with the first pick. Let's see if he can surprise us again.
As Harper explains, it's far too early to shut the book on Bennett and assume he'll be the bust he was in his first season.
Bennett won't need to do a whole lot to improve upon that campaign, and with positive momentum so easily achievable and the expectations relatively low, Bennett should change a few minds with his play for the Timberwolves this season.
Read more NBA news on BleacherReport.com
View full post on Bleacher Report – NBA