With Kevin Durant out, Russell Westbrook once again proved capable of carrying the load in a 104-103 win for the Oklahoma City Thunder over the Los Angeles Lakers.
Westbrook dominated the game offensively, scoring 31 points on 9-of-22 shooting and dishing out a game-high 10 assists. Every time the Lakers drew close, Westbrook was there with a much-needed score.
Opposite Westbrook was Kobe Bryant, who struggled mightily with his shot in a 3-of-15 performance that included a missed jumper that would've won the game.
He impacted the game in other ways, though, nearly notching a triple-double with nine points, eight rebounds and eight assists.
Oklahoma City Thunder

Russell Westbrook: A
Westbrook has been tantamount to a one-man wrecking crew this season, doing anything and everything OKC needs. That's been especially true in the games Kevin Durant has missed.
Durant was out Friday with an ankle injury, opening the door for Westbrook to carry the offense himself. The explosive guard finished the game with 31 points, 10 assists, five rebounds and a crucial jumper late in the fourth quarter.
Serge Ibaka: B-
Serge Ibaka had an inefficient game offensively, taking 17 shots to get his 16 points. He settled for a few too many jumpers and his percentage suffered because of it.
It was a different story on the other end, though. He was aggressive defensively and on the boards, leading to seven rebounds and five blocks.
Reggie Jackson: A-
Reggie Jackson combined with Westbrook to form a terrifying duo for which the Lakers had no answers. No one could stay in front of Jackson, as he shot 9-of-15 from the field for 25 points.
On defense, he wasn't quite as spectacular, struggling to contain Jeremy Lin's drives or force Wayne Ellington off the three-point line.
Steven Adams: B-
As always, Steven Adams pestered the opposition, playing a physical brand of defense and relentlessly attacking the boards on both ends.
He finished with 10 rebounds and nine points but raw box scores don't always measure his impact. It's often the way he clogs the paint or just generally frustrates the opposition that makes him valuable.
Rest of Team: C-
The only other contributor who did much for the Thunder was Andre Roberson, who scored 10 points on 4-of-7 shooting. He nailed two threes, doubling his season total.
Perry Jones was the fifth starter, but scored zero points on 0-of-2 shooting in just 12 minutes.
After that, there really wasn't any production off the bench, which highlighted a problem that could plague the Thunder throughout the year.
Los Angeles Lakers
Kobe Bryant: C-
Bryant looked fatigued from pretty much the opening tip, holding his head down after bad possessions and often not even trying to get back defensively.
On offense, he clearly lacked the lift he typically gets on his jumpers, as most of his shots came up short. That was painfully clear on the potential game-winner he missed as time expired.
Bryant made up for his struggles to some extent by doing a good job of distributing the ball. He was hunting for his shot less than he usually does on the way to his eight assists.
Ed Davis: A
Byron Scott moved Ed Davis into the starting lineup over Carlos Boozer for defensive purposes. Friday, it looked like the move may have been for Davis' offense.
He was active around the rim, finishing when teammates set him up or off of offensive rebounds. His touch inside helped him score 18 points on 8-of-10 shooting, and his hustle led to nine rebounds and two blocks.
Nick Young: D+
Nick Young has been the Lakers' spark off the bench for most of the season, but he did it with something other than points against the Thunder.
During the second half, he took exception to what appeared to be a clean screen by Steven Adams and threw an elbow to Adams' throat. The move got him tossed from the game, but it apparently fired up his teammates, as they immediately went on a run.
He wound up with 10 points on 4-of-8 shooting in just 13 minutes.
Ronnie Price: B
Ronnie Price made his way into the starting lineup at the same time as Davis, and for the same reasons. And like Davis, it was his offense that stood out against the Thunder.
He scored 14 points on 5-of-8 shooting, doing all of his damage in the first quarter. He stayed quiet the rest of the game, but his barrage to start the game helped set the tone early.
Rest of Team: B
The Lakers got some great contributions off the bench from former starters Jeremy Lin and Carlos Boozer.
The former looked confident on his drives, creating scoring opportunities for both himself and his teammates. He finished with 12 points, eight rebounds and five assists. Boozer, meanwhile, got going late and scored 14 points and grabbed six rebounds.
Jordan Hill also reached double figures, scoring 10 points in just 21 minutes.
Coming Up Next
The Lakers' next game will be on the road, against the Sacramento Kings, Sunday at 6 p.m. ET. The Thunder will get the New Orleans Pelicans at home, Sunday at 7 p.m. ET.
Andy Bailey covers the NBA for Bleacher Report. Follow him @AndrewDBailey.
Read more NBA news on BleacherReport.com
View full post on Bleacher Report – NBA
After the Memphis Grizzlies snapped the Golden State Warriors' franchise-record 16-game winning streak Tuesday, the Warriors must regroup quickly with the red-hot Oklahoma City Thunder coming to visit Thursday night.
The Warriors will once again be without center Andrew Bogut (knee) and forward David Lee (hamstring). Golden State (21-3) has picked up three wins during Bogut's four-game absence, but the 7-footer leaves a noticeable void on the interior at both ends of the floor.
The Thunder, meanwhile, have put their early-season injury woes behind them and quickly forced their way into the playoff picture. Sparked by the returns of Russell Westbrook (26.4 points, 6.8 assists) and Kevin Durant (21.5 points on 50.4 percent shooting), Oklahoma City (12-13) now owns the NBA's longest winning streak at seven games and is a half-game out of eighth place in the West.
But the Thunder have more climbing to do in the overcrowded Western Conference, so they will be looking for a win against a team they took two of three games from last season. Catch the TV broadcast at 10:30 p.m. ET on TNT, but keep it locked here for the best updates, scores and analysis.
Read more NBA news on BleacherReport.com
View full post on Bleacher Report – NBA
It figures to be a baptism by fire for Sacramento Kings interim coach Tyrone Corbin. In his first test since replacing the fired Michael Malone, Corbin's club will face the red-hot, healthy Oklahoma City Thunder on Tuesday (10:30 p.m. ET on ESPN).
The Kings (11-13) are still playing without DeMarcus Cousins (viral meningitis) and still without a solution to compensate for his absence. Sacramento is 9-6 with Cousins in the lineup this season and only 2-7 without the 20-point, 10-rebound machine manning the middle.
The Thunder know the Kings' pain all too well, but Oklahoma City is fortunately not feeling it any longer. Perennial All-Stars Russell Westbrook (broken hand) and Kevin Durant (broken foot) both missed significant time this season, but each has made it back within the past few weeks. The Thunder (11-13) have won eight of their last nine and six in a row, while putting up an even 110 points a night over their last four outings.
These clubs might own identical records for now, but they appear to be heading in opposite directions.
Read more NBA news on BleacherReport.com
View full post on Bleacher Report – NBA
The Golden State Warriors are still going streaking, a weeks-long affair the Memphis Grizzlies look to end Tuesday night on their own turf.
Working off a 16-game win streak, the Warriors have looked near unstoppable. They own the NBA's fifth-best offense, as well as the top-ranked defense. But said dominance has come with a caveat.
Only three of their 16 straight victories have come against opponents above .500—the Houston Rockets, Chicago Bulls and Dallas Mavericks. The Grizzlies enter Tuesday night at 19-4, holding the Western Conference's second-best record, their top-eight offense and defense promising Golden State a test it hasn't yet seen.
Can the Grizzlies derail Golden State's run of perfection while extending the length of their own four-game win streak? Or will it be the Warriors who push the bill at least one more time, strengthening their chokehold on the West, becoming just the seventh team in NBA history to begin the season at least 22-2?
You can catch all of the action on ESPN at 8 p.m. ET, but be sure to keep it locked here for updates and analysis throughout tonight's game.
Read more NBA news on BleacherReport.com
View full post on Bleacher Report – NBA
Nick Young owned his nickname Friday, hitting a quintessentially Swaggy P game-winning three in overtime against, lifting his Los Angeles Lakers to a 112-110 overtime victory over the San Antonio Spurs.
Young carried the scoring load for the Lakers, dropping a game-high 29 points on 9-of-14 shooting. He was spectacular throughout, hitting jump shot after jump shot in the face of stiff defensive pressure.
Kobe Bryant entered the game 30 points shy of tying Michael Jordan for third all-time on the NBA's scoring list and scored 22 on 7-of-22 shooting.
History will have to wait for Bryant, but it was made by Tim Duncan (more on that later).
Los Angeles Lakers

Kobe Bryant: B+
It would have been easy and understandable for Bryant to chase the 31 points he needed to pass Jordan Friday, but he was actually quite measured. Or at least as measured as 2014 Bryant can be.
His shooting line was characteristically bad, but he was an excellent distributor, particularly in overtime. His nine assists were good for game-high honors.
Down the stretch, he wasn't hunting his own shot as aggressively as he has at other times this season, and the Lakers benefited because of it.
Getting more quality looks for his teammates made the Spurs' defense work a lot more, chasing five guys around the floor instead of one.
A more balanced attack is what kept the Lakers in this game and is exactly what they need going forward.
Jordan Hill: B
One of those players who got a lot more good looks was Jordan Hill, and it wasn't just from his own offensive rebounds, though he did grab four of those.
Hill caught the ball in the flow of the offense several times, finding it in the post or on cuts to the basket. He missed a few bunnies in his 7-of-16 performance, but he did put in 14 points.
Nick Young: A
Maybe that practice dust-up between Bryant and Nick Young did something for the latter, because he played an inspired game.
The swag was turned up to 11 early, as Young hit his first five three-point attempts. And he stayed hot the rest of the way, scoring on the majority of the opportunities he was given or created for himself.
He doesn't do a ton else when he's on the floor, but when those jumpers are falling, Young's appointment viewing.
Carlos Boozer: A
If he embraces this new role of spark plug off the bench, as he did Friday, Carlos Boozer can be valuable for the Lakers.
He feasted on the second-unit bigs, scoring 14 points and grabbing 13 rebounds. When he isn't tasked with defending starting 4s on the other end, he really produces in the other two thirds of the game.
Rest of Team: B
Boozer was joined off the bench by Jeremy Lin, who scored 14 points on 6-of-14 shooting and dished out eight assists. He looked more confident than he has at other times this season, something that needs to continue down the road.
Starting small forward Wesley Johnson was also solid, scoring 13 points on 5-of-7 shooting and making all three of his three-point attempts.
The other two starters, Ed Davis and Ronnie Price, combined to score two points on 1-of-7 shooting.
San Antonio Spurs

Tim Duncan: A+
Tim Duncan is undoubtedly the NBA's Ponce De Leon, seemingly drinking from the Fountain of Youth before every game. His 19 points and 18 rebounds further solidified his double-double average, a feat that's never been accomplished by a 38-year-old.
All night, he seemed to be in the right position on every defensive rotation and missed shot, grabbing boards and using his great instincts to block two shots.
He was great offensively as well, displaying some of the post moves that have made him the focal point of San Antonio's offense for years. Late in the fourth quarter, he hit a hook shot off the backboard that took him past Jerry West for 18th in NBA history in scoring.
Tony Parker: C-
It was a quiet night for Tony Parker, who's trying to recapture his rhythm after sitting out the Spurs' last three games with a strained right hamstring.
He played just 18 minutes and scored five points on 2-of-5 shooting.
Parker didn't appear terribly hampered—his explosion was still there on a couple occasions—but he was clearly playing with more caution than usual.
Danny Green: B+
With Kawhi Leonard out, most of the wing scoring from the starting unit had to come from Danny Green. He put in 19 points, shooting 7-of-14 from three-point range.
He also did a decent job defensively on Bryant, forcing him into several contested jump shots. On this night, Bryant just happened to hit a couple of the tough looks.
Down the stretch, he was a little overaggressive, leading to some of the assist opportunities for Bryant, but you have to pick your poison with him.
Manu Ginobili: B
San Antonio really needed a spark with Leonard out and Parker limited, and Manu Ginobili certainly tried to provide it. He took 16 shots off the bench, but connected on just six on the way to his 18 points.
It's not a terrible shooting night, but a few of his eight three-point attempts were clearly rushed. He may have been better off trying to create for a teammate on one or two of them. You can't blame him, though, given the circumstance.
Rest of Team: B+
As is always the case with the Spurs, they got contributions from all over the roster.
Cory Joseph was dynamite while playing most of the minutes Parker would normally get. He's a menace defensively and knows when to attack on the other end. He finished with 16 points on 7-of-14 shooting.
Rookie Kyle Anderson started in place of Kawhi Leonard. He looked every bit of his "Slo-Mo" nickname, but still managed six points, four rebounds and three assists in 21 minutes. Most of his production appears to be the result of simply knowing the game and being in the right place at the right time.
Marco Belinelli was also solid off the bench, scoring nine points on 3-of-6 shooting.
Coming Up Next
The Lakers' next game will be on the road, against the Minnesota Timberwolves, Sunday at 7 p.m. ET. The Spurs will also be on the road, taking on the Denver Nuggets, Sunday at 8 p.m. ET.
Andy Bailey covers the NBA for Bleacher Report. Follow him @AndrewDBailey.
Read more NBA news on BleacherReport.com
View full post on Bleacher Report – NBA
An up-and-down season hasn't left the Chicago Bulls where they'd like to be, as they're 13-8 heading into this Friday night contest with the 17-5 Portland Trail Blazers. This may only be a single clash between the Eastern and Western Conference, but it's an important one for both playoff-bound squads.
After all,
Pau Gasol
will have his hands full with
LaMarcus Aldridge
, especially as the big man tries to help his team bounce back from an ugly loss to the Minnesota Timberwolves on Wednesday. What better motivation than fighting for redemption after his 3-of-14 shooting performance while his Blazers scored a season-low 82 points against the lowly Wolves?
Derrick Rose
is healthy and raring to go, but he'll have his work cut out for him in a head-to-head matchup with
Damian

Lillard
. With Rip City coming to town, the Bulls have a chance to build some positive momentum and get their home record in the United Center closer to .500.
Catch the TV broadcast at 7 p.m. EST on ESPN, but keep it locked here for the best updates, scores and analysis.
Read more NBA news on BleacherReport.com
View full post on Bleacher Report – NBA
The Nets and 76ers agreed Wednesday to a deal that will send the veteran forward Philadelphia in exchange for draft considerations and forward Brandon Davies, per Yahoo Sports' Adrian Wojnarowski:
Wojnarowski also added more detail:
Kirilenko is in the final year of a $3.3 million contract, and will be waived in Philadelphia once the deal is completed, sources said. Kirilenko would become a free agent, but it could still be several weeks – even months – before he's ready to sign a deal to play elsewhere this season, sources said
The 76ers, who are well below the NBA's salary cap, can take on Kirilenko's salary without issue. Wojnarowski noted they will likely release the veteran or come to a buyout agreement, allowing Kirilenko to hit free agency and sign with a contender.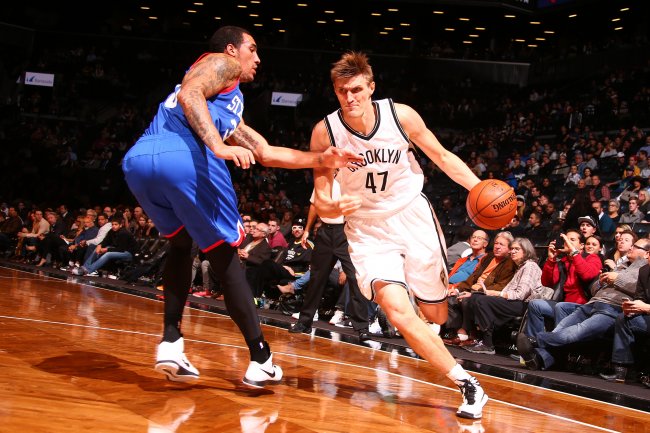 Davies will be sent to Brooklyn in due to rules prohibiting NBA teams trading assets for nothing. Given their desire to shed salary and Davies' non-guaranteed contract, they will very likely release him in the coming days. Davies will not be eligible to return to the 76ers this season.
More than anything, though, this deal represents the end of Kirilenko's odd Brooklyn dalliance. Owed $10 million by the Minnesota Timberwolves for the 2013-14 season, Kirilenko declined his player option and hit free agency, where he curiously took a massive pay cut to join Kevin Garnett and Paul Pierce with the Nets.
Expected to bring defensive tenacity and versatility as a swing forward, the Russian instead struggled mightily with injuries and never got into a rhythm. Kirilenko was limited to 45 games last season and struggled to make an impact; he averaged just 15 minutes per game in the Nets' aborted playoff run.
With Lionel Hollins taking over as coach for Jason Kidd this season, Kirilenko's role shrunk even further. He was yet to make a field goal in 36 minutes and was tethered to the end of the bench when he left the team prior to a road trip last month.
"It's tough, but there's nothing I can do," Kirilenko told reporters at the time. "I'm not the one making decisions, and it is what it is."
Wojnarowski cites the Cavaliers and Clippers as potential destinations. Both contenders are in desperate need of a wing defender, though they have only the veteran's minimum to offer. The Spurs, who have long made hay with other teams' discarded parts, may be a contender if they're willing to offer more than the minimum.
Heading toward his 34th birthday with a lengthy injury history, it's fair to wonder how much Kirilenko has left. But it never pays to be picky when playing the veteran buyout game. Effective players who hit the market are few and far between. Kirilenko at 70 percent of his former self is very likely the best wing defender who will come available all season.
Follow Tyler Conway (@tylerconway22) on Twitter
Read more NBA news on BleacherReport.com
View full post on Bleacher Report – NBA
The Cleveland Cavaliers started slowly but rode a hot third quarter to a 110-88 victory over the Brooklyn Nets on Monday at the Barclays Center.
Cleveland went into the halftime break with a 50-49 lead, but the offense looked stagnant. LeBron James and sixth man Dion Waiters helped spark the attack in the third quarter, coinciding with the late arrival of Prince William and Duchess Kate.
Kevin Love and Anderson Varejao did their part as well, leading the charge in a dominant performance on the boards. The Cavs outrebounded the Nets 55-33.
The Nets were led not only by Kevin Garnett's 14 points, but his tireless passion (which you'll see later).
Cleveland Cavaliers
LeBron James: B
In the first and second quarters, James looked content to walk the ball up, pass it off to someone else and pretty much disappear after that.
The nonchalant style of play has become a trend for James this season, as the level of engagement has been nowhere near as consistent as it was in the past.
The scary thing for the rest of the league is that he can turn it on in the blink of an eye and take complete control of a game. That's exactly what he did during a stretch of the third quarter in which he scored seven quick points and hit one ridiculous fadeaway that pretty much put the game away.
Brooklyn managed to keep the game close as long as LeBron was just going through the motions. It seemingly turned into a blowout right when he wanted it to.
James would finish with 18 points and seven assists.
Kyrie Irving: D
As was often the case for the Miami Heat when James was there, it's not uncommon for one of the Cavs' Big Three to have a rough game.
Kyrie Irving went through one of those, scoring just seven points on 2-of-10 shooting. His pull-up jumpers were all over the place, and his touch around the rim was nowhere near as soft as usual.
Fortunately for Cleveland, his performance on the other end wasn't impacted by his offensive woes. He was part of a solid team effort that held Deron Williams to 3-of-14 shooting.
Kevin Love: B
Another developing trend for this team is when Kevin Love gets his points, which has recently been during first quarters.
That was maintained Monday, as Love got off to another hot start, scoring 15 points on 6-of-8 shooting in the first quarter. The problem is he's been disappearing offensively after those starts.
He finished with 19 points on 7-of-14 shooting. He was solid on the boards throughout, though, finishing with 14.
Anderson Varejao: C
Anderson Varejao was a big part of Cleveland's dominating performance on the boards, tying with Love for a game-high 14. No matter how he plays on offense and defense, his effort on the boards is always there.
This was one of those nights when rebounding was the one thing that was going right. Varejao had a hard time finding his spots in the offense and couldn't catch the ball a couple of the times he actually got it. He finished with just seven points on 2-of-5 shooting.
He also got beat up on the other end by a combination of Kevin Garnett, Mason Plumlee and Jerome Jordan.
Rest of Team: A
Cleveland's bench has been disastrous at times this season, but Tristan Thompson and Dion Waiters were fantastic Monday, helping to key the third-quarter run that put the game away.
Waiters scored a game-high 26 points on 11-of-21 shooting. Thompson posted a solid double-double, scoring 14 points and grabbing 12 rebounds.
Even James Jones got in on the act, scoring 12 points on 4-of-5 from three-point range.
Brooklyn Nets
Deron Williams: B-
Deron Williams may have struggled from the field, but he registered a double-double with 13 points and 11 assists and was one of the main reasons Brooklyn stayed in the game in the first half.
He was setting up both shooters on the perimeter and finishers inside during the first half, but he started trying to gun the Nets back into the game when things turned sour.
Kevin Garnett: A
Even at 38, Kevin Garnett continues to let his talking do the talking. He was barking at anyone who came near him, throwing elbows and just doing his general pest routine.
The difference Monday was that his game actually did some talking too. He scored 14 points on 6-of-9 shooting and grabbed seven rebounds in just 19 minutes.
Mirza Teletovic: C
Mirza Teletovic got off to a solid start offensively, filling in for the injured Brook Lopez, but his night was cut short by a pair of injuries.
He would finish the game with 11 points on 5-of-12 shooting, including this beautiful reverse from the first quarter.
Bojan Bogdanovic: F
With Lopez and Joe Johnson out, the Nets desperately needed someone to make up for some of those points. Bojan Bogdanovic was a prime candidate, but he fell flat, shooting 1-of-6 from the field and scoring just two points.
He was matched up with Waiters for several stretches of the game and simply looked outmatched physically on both ends.
Rest of Team: C-
Two Nets reached double figures off the bench. Jerome Jordan scored 12 points on 6-of-8 shooting but was a team-worst minus-30 in 26 minutes of action. Sergey Karasev scored 11 points on 4-of-5 shooting against his former team.
Mason Plumlee and Jarrett Jack, typically Brooklyn's primary weapons off the bench, went for 13 points on 5-of-12 shooting combined.
Coming Up Next
The Cavaliers' next game will be Tuesday against the Toronto Raptors at 7 p.m. ET. The Nets will hit the road to take on the Chicago Bulls Wednesday at 8 p.m. ET
Andy Bailey covers the NBA for Bleacher Report. Follow him @AndrewDBailey.
Read more NBA news on BleacherReport.com
View full post on Bleacher Report – NBA
The Cleveland Cavaliers rode the hot shooting of Kyrie Irving in a 90-87 victory over the New York Knicks Thursday at Madison Square Garden.
Irving scored a season-high 37 points on 12-of-18 shooting, throwing an otherwise solid Knicks defense into disarray whenever he wanted.
On the other end, New York was again plagued by an excess of mid-range shots, making it difficult to get to the free-throw line. The Knicks won the rebound, assist, steal and block battles, but they shot just 5-of-6 from the charity stripe, compared to Cleveland's 21-of-26.
Cleveland Cavaliers
LeBron James: B
In November, it was just kind of assumed that LeBron James would eventually snap out of his early-season malaise and start dominating games the way he has for most of the past decade. Now well into December, he's still struggling to find that unmatchable gear in which he played in the past.
But even this incarnation of James can have a huge impact on a game. On pure talent alone, he's putting up huge numbers as Cleveland's de facto point guard.
His 19 points on 7-of-17 shooting don't jump off the screen, but 12 assists do. Defensively, he grabbed four rebounds, but he struggled to stay in front of Carmelo Anthony, whose bad night can mostly be attributed to simply missing open shots.
Kyrie Irving: A+
Forget what the media guide or NBA.com designation tells you; Irving is not the point guard on this team. With James' playmaking skills getting everyone involved, Irving has the freedom to just go out and score.
The shooting guard with "PG" next to his name went off, scoring with a nice mix of jump shots and his signature stylized drives. Twenty-three of his points came in the second quarter alone, when it looked like no other Cav had any interest in the game.
All of the shooting was partly responsible for Irving only dishing out two assists. And his lack of distributing once again drew criticism.
Most should eventually accept what Irving's true position and role is on this team. But until then, he might have to rely on game-sealing floaters like this beauty to hold the critics at bay.
Kevin Love: C
Just when it looked like Kevin Love was coming out of his slump, the defensive stylings of Quincy Acy and his compadres in the Knicks frontcourt resurrected his troubles.
Acy, Amar'e Stoudemire, Jason Smith and Samuel Dalembert all got turns on Love, and all were physical. They forced him away from his comfort zones, and Love quickly became frustrated, throwing up his hands and staring at the refs in exasperation.
He finished with 11 points on 4-of-11 shooting against the stingy interior defense. That shouldn't make you think it was a terrible game, though. He still managed a double-double by grabbing 11 rebounds.
Anderson Varejao: D
Anderson Varejao was equally frustrated by the Knicks' bigs. Cleveland's center is typically a terror on the boards, but he was held to just three.
Offensively, he couldn't find as many cutting lanes and opportunities to slip picks as he typically does, finishing with just eight points on 3-of-6 shooting.
Perhaps most importantly, Varejao really struggled defensively, allowing a true throwback Thursday performance from Stoudemire.
Rest of Team: F
Cleveland's depth was once again called into question. Only three players—Dion Waiters, Tristan Thompson and Mike Miller—got more than four minutes off the bench. That trio combined for eight points on 3-of-9 shooting.
One or two of Cleveland's reserves has to earn more minutes if Cleveland's going to have their championship aspirations come to fruition. Irving had to play 44 minutes, and James and Love had to play 39, to beat the woeful Knicks in December.
New York Knicks
Carmelo Anthony: D-
Other than the 10 rebounds he collected, and a few nice moments on defense, this game was a disaster for Carmelo Anthony.
He looked off from the opening tip, clanking open jumpers and losing the handle left and right. He finished with just nine points on 4-of-19 shooting to go with five turnovers.
He's the only great scorer on the roster, and when he plays like this, 87 points on a terrible defensive team is what you get.
Amar'e Stoudemire: A
New York led most of the game and stayed close in the fourth quarter thanks in large part to a dynamic performance from Stoudemire, who was dunking on people like he was still wearing the purple and orange of the Phoenix Suns.
He wound up with 18 points on 8-of-13 shooting and almost notched a double-double with nine rebounds. Each bucket and board was like some kind of flashback to a time when Stoudemire's footwork and explosiveness made him a nightmare for every defense in the NBA.
On the other end, his intensity spearheaded a team effort that stymied anything Cleveland tried to run for its bigs.
Really, the only gripe would be that Stoudemire was loose with the ball, tying Anthony for a team-high five turnovers.
Iman Shumpert: D+
Iman Shumpert was one of a few different defenders coach Derek Fisher threw at Irving. As you can see by the Cleveland guard's line, Shumpert wasn't successful in slowing him down.
That, in combination with seemingly disappearing on offense, had Shumpert on the bench for nearly half of the game. He finished with zero points on 0-of-4 shooting in 25 minutes.
That's not to say he didn't do anything right, though, as he grabbed six boards and dished out four assists.
Jose Calderon: D-
Jose Calderon was even less of a factor than Shumpert, dishing out three assists and scoring three points on 1-of-5 shooting.
He was clearly outmatched physically by Irving on both ends of the floor, and when he's not hitting those three-point attempts, it's hard to keep him out there.
Tim Hardaway: B+
The Knicks were led in scoring by an unlikely hero, Tim Hardaway, who came into the game averaging 8.2 points on 39 percent shooting.
His 20 points on 8-of-14 from the field paced the Knicks and gave them a nice inside-out combo with Stoudemire.
Rest of Team: C-
Four other Knicks—J.R. Smith, Jason Smith, Shane Larkin and Samuel Dalembert—played 13 minutes or more off the bench.
Smith went for nine points on 4-of-8 shooting. Dalembert grabbed nine rebounds and scored six points. And the rest of the bench combined for seven points on 3-of-11 shooting.
Coming Up Next
The Cavaliers will continue their road trip with the second game of a back-to-back Friday against the Toronto Raptors at 7:30 p.m. ET. The Knicks will also hit the road, taking on the Charlotte Hornets Friday at 7 p.m. ET.
Andy Bailey covers the NBA for Bleacher Report. Follow him @AndrewDBailey.
Read more NBA news on BleacherReport.com
View full post on Bleacher Report – NBA
The New Orleans Pelicans are taking steps to reshape their roster following an 8-8 start to the 2014 NBA season. The team's latest move is the signing of forward Dante Cunningham.
According to a tweet from the Pelicans public relations staff, terms of Cunningham's deal with New Orleans weren't disclosed:
Marc Stein of ESPN is reporting that Cunningham's pact with the Pelicans is for one year at the league minimum:
The 27-year-old Cunningham has been in limbo after being arrested in April on domestic assault charges, via Mike Durkin of My Fox Twin Cities.
However, those charges were dropped in August, with Hennepin County prosecutors releasing a statement saying, "There is not proof beyond a reasonable doubt for the charged offense," via Dan Devine of Yahoo Sports.
According to Adrian Wojnarowski of Yahoo Sports, Cunningham is unlikely to face any disciplinary action from the NBA since those charges were dropped:
Cunningham has been linked to the Pelicans for a few days before the signing was announced. John Reid of The New Orleans Times-Picayune reported the veteran forward worked out for the team on Monday, though head coach Monty Williams wasn't playing his hand at the time.
"We're looking at a number of options,'' Williams said. "We've had a few guys playing in that spot (small forward) like I said the other day, I don't want to change from game to game. But I will if I feel like it will help our team."
The Pelicans waived Darius Miller and Patric Young on Nov. 30, opening up roster spots that the team needed to fill. Cunningham has been a solid bench player throughout his career, most recently averaging 6.3 points and 4.1 rebounds per game with Minnesota last season.
Cunningham is young enough with a strong track record of success to make a difference for a Pelicans team that's fighting an uphill battle to get into playoff contention. The Western Conference is loaded with 11 teams currently at .500 or better, so finding a piece like this could be a boost for a young team trending in the right direction.
Read more NBA news on BleacherReport.com
View full post on Bleacher Report – NBA